After our Vacanze Romane, we are writing this post in order to help other couples organize their 3 days in Rome.
First things first: booking place to sleep. Very happy to have chosen the Termini area to stay. It has means of transport to take you wherever you want, straight and fast.
If you plan to visit the Vatican museum, then you should definitely book it online, even if you pay 4€ extra. At least you'll be able to skip the long line.
Then we checked two great travel sites to best organize the trip:
trippy.com is a forum where travelers share their experiences, tips, trips, recommendations about places all over the world. It is here we took our main notes of what to see in Rome, both touristic and less.
touristeye.com is a great site to create lists and also find lists by fellow travelers of what to see or what to do when visiting a city. This website gave us some great suggestions of affordable and good places where to eat in Rome.
After the actual research came the planning part per days. We bought a map and created the itinerary. It also came in handy the Tripomatic application that we used to pin the places on a beautiful map displaying photos and short descriptions. We highly recommend it!
Very important to take into consideration the fact that if you're not ready to walk a lot, then you should skip some of the places. The truth is, we just stopped for lunch, coffee and dinner.
Day 1 (half-day)
You can take the subway to Piazza di Spagna – visit the area, which is over-crowded (don't even want to imagine how it is during summer), head to Piazza Nevona, pass by the Trevi Fountain, stop at the Pantheon (one of the most impressive monuments we've seen) and then lose yourself in the surrounding narrow streets. They're very charming, and the buildings are old and colorful, with hotels and pizzerias at every corner you turn.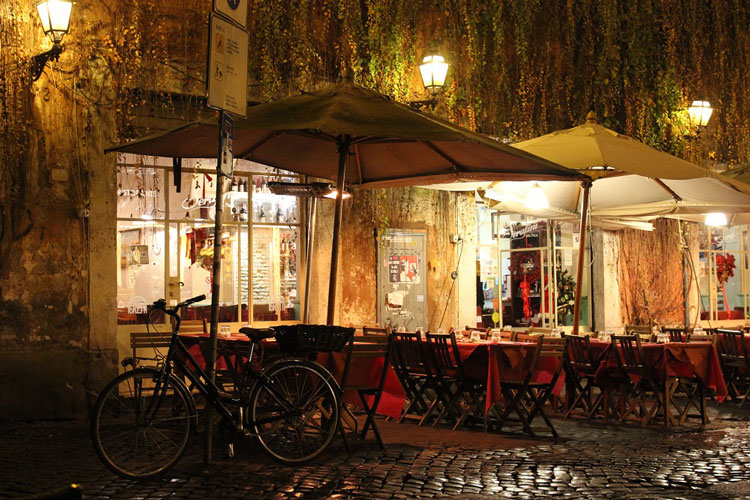 Day 2
We took the subway to Vatican. Inside the museum we spent more than two hours. We must say we were deeply impressed by Raphael's Rooms and Sistine Chapel.
Piece of advice: eat well in the morning – that's because you'll also probably want to see the Basilica di San Pietro afterwards, where, with a bit of luck, you won't be spending more than half-an hour in line to enter. By the way, Basilica is for free, so don't let yourself deceived by people on the street who will try to sell you tickets to Vatican saying that the Basilica is included. You'll just need to pay with your patience to wait in line.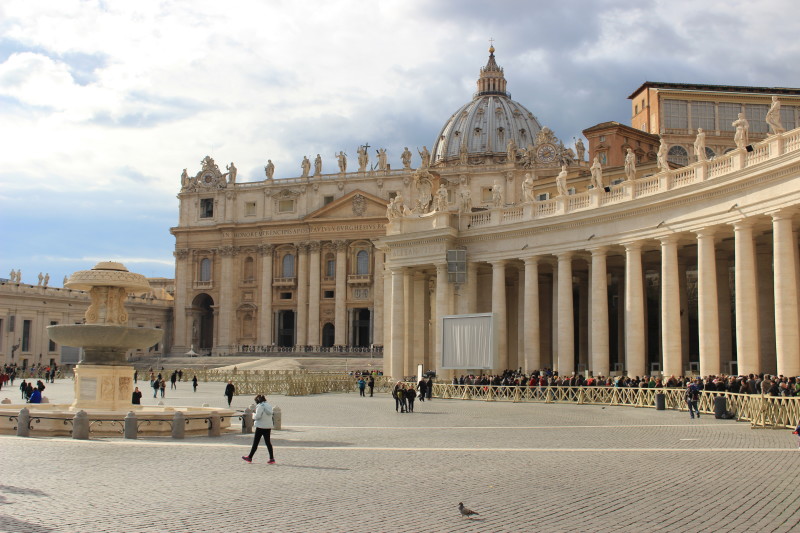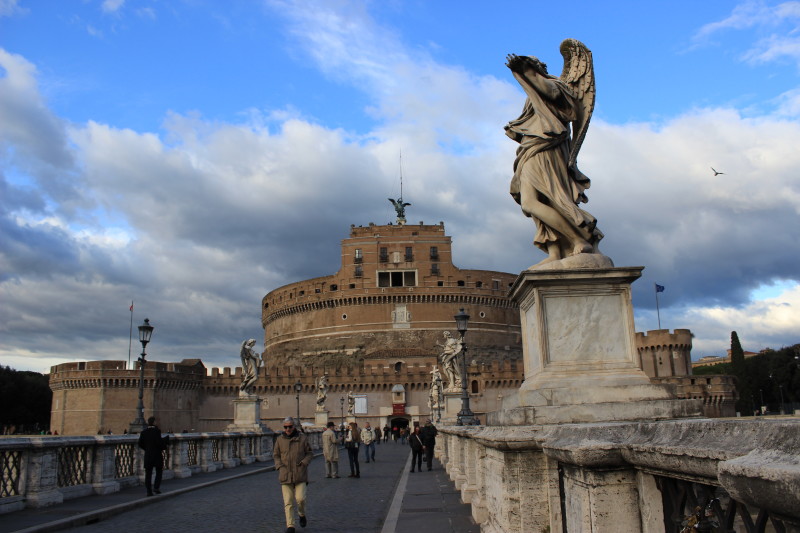 For lunch, it is really up to you. There are plenty of restaurants everywhere, but you can always check the prices on the menus outside. For less pricey choices, you should try their fast food' (with pizzas, focaccia and pasta) where you can get a pasta meal including drink and coffee for 6€.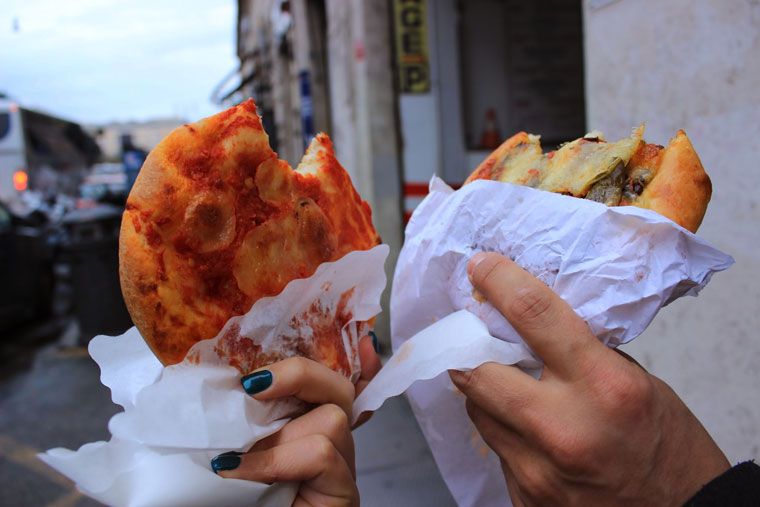 Note: If you go for a coffee, remember that you'll pay extra if you choose to sit rather than stand at the bar.
From Vatican we headed to Piazza del Popolo, visited the Basilica di Santa Maria del Popolo and walked around the streets until our feet couldn't take it anymore. The good thing is that in Rome whenever you want to rest for a while, you can enter in one of their many and beautiful churches, which are worthwhile even if you're not religious.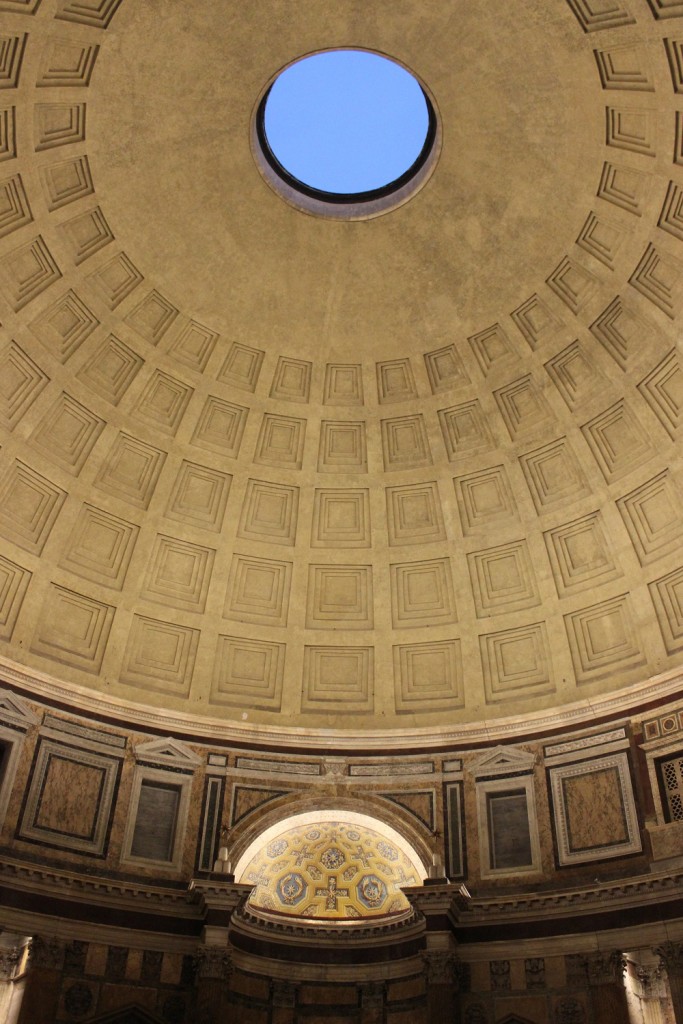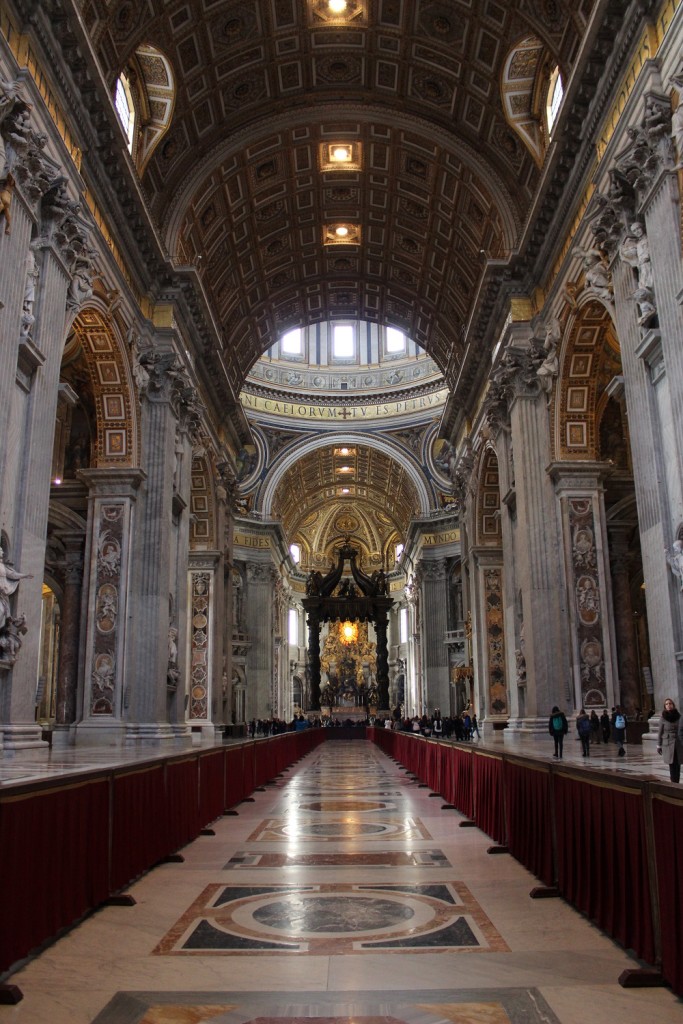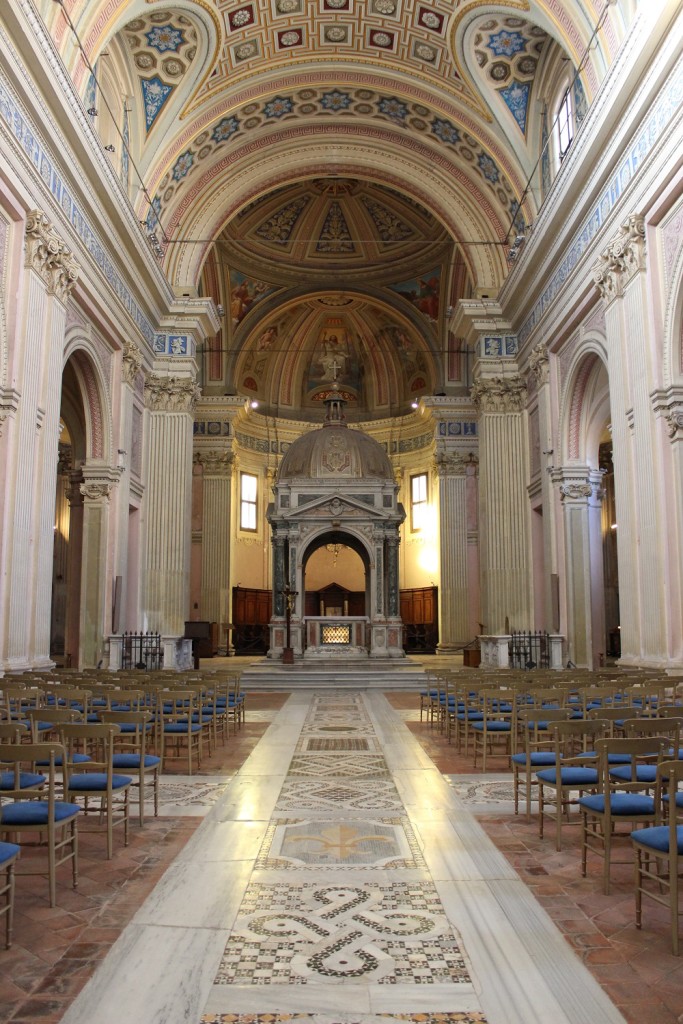 While strolling around we ended up in front of the atelier of a famous Venezian sculptor by his name of Ferdinando Codognotto. The man was really a character. He was sitting like a true artist on his throne, in a messy atelier, smoking his pipe, listening to loud Italian music. First, we were hesitant whether to enter or not, then he invited us in, and just like that, he handed us a star made in wood, saying: Offerta! As decent tourists, we said Grazie and as we were preparing to pay, he repeated: offerta! offerta! He then engraved our names on the wooden star. Before we left, he took a hand full of nuts and put them in my (Diana) hand saying something about noci and prosperita. Only after we left, did we notice that all the neighborhood's shops, salons, restaurants, had their names engraved in wood by Ferdinando.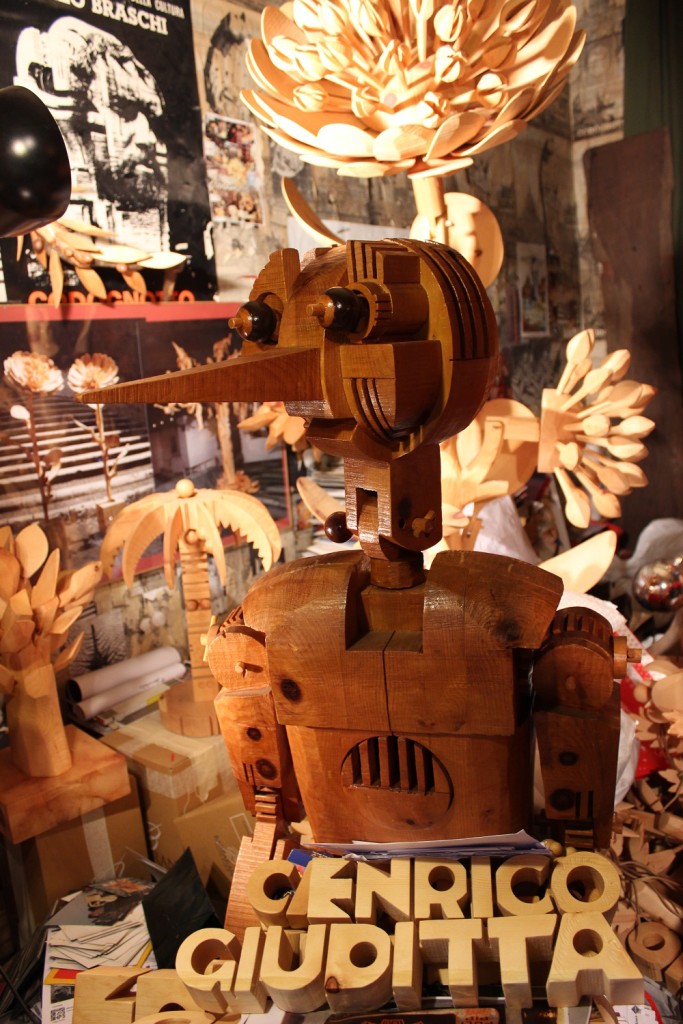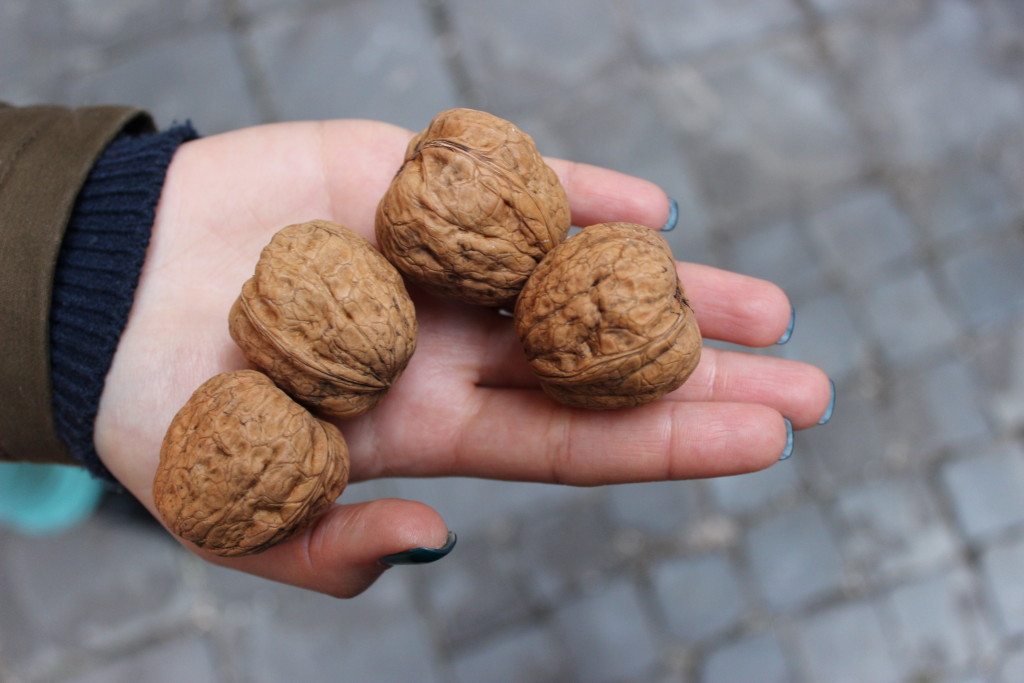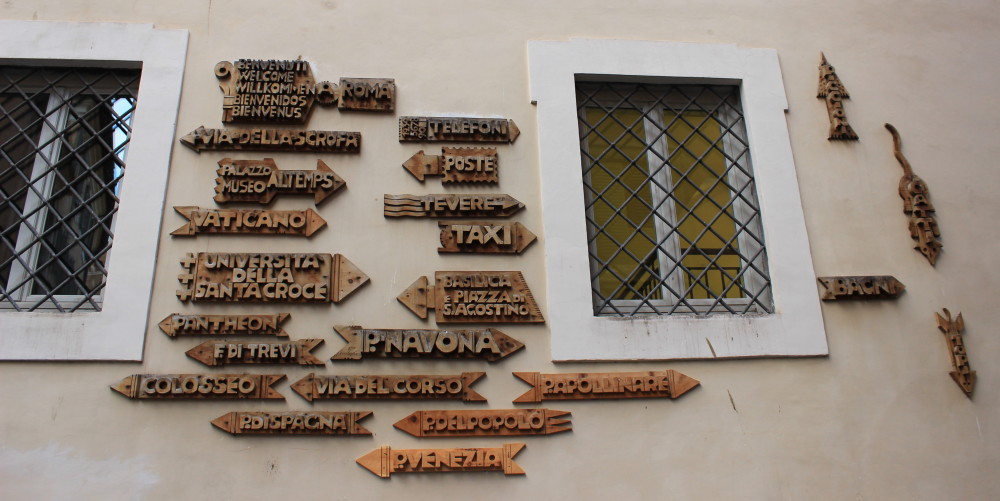 Day 3
This last day we spent it like hippies – less map, more guesses. We walked from the Colosseum all the way to Trastevere. On the way we made a stop at the famous Bocca della Veritá to do what everyone in line was waiting for: put our hands in the mouth of truth and hope they wouldn't be chopped off. 🙂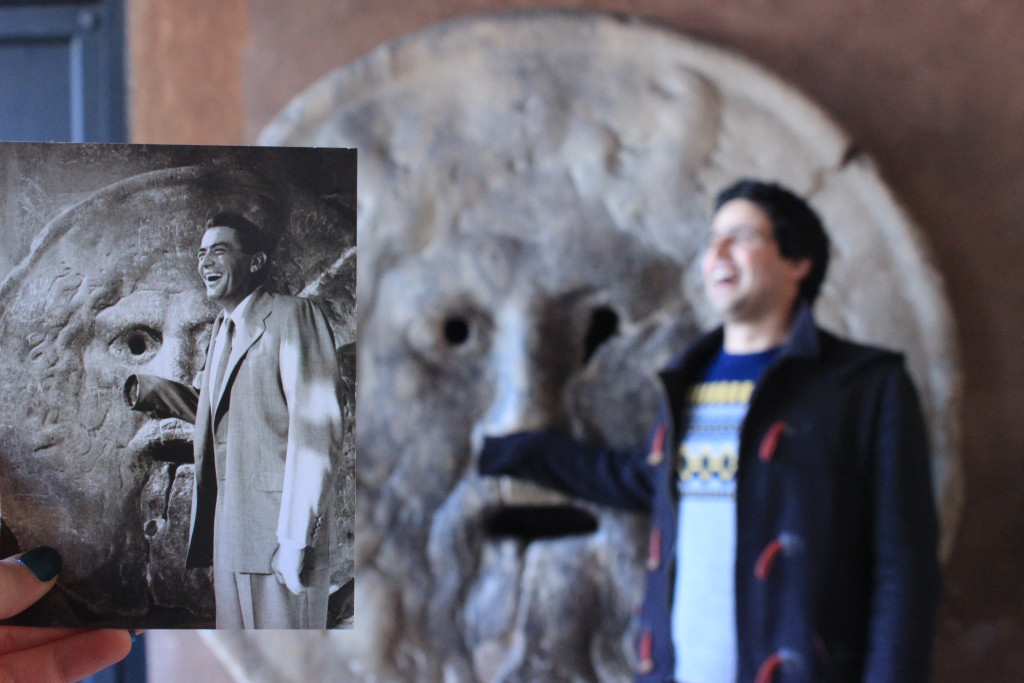 In Trastevere we stopped for a coffee then we continued our walk taking pictures, admiring the bohemian buildings, secret corners, hidden restaurants, small squares…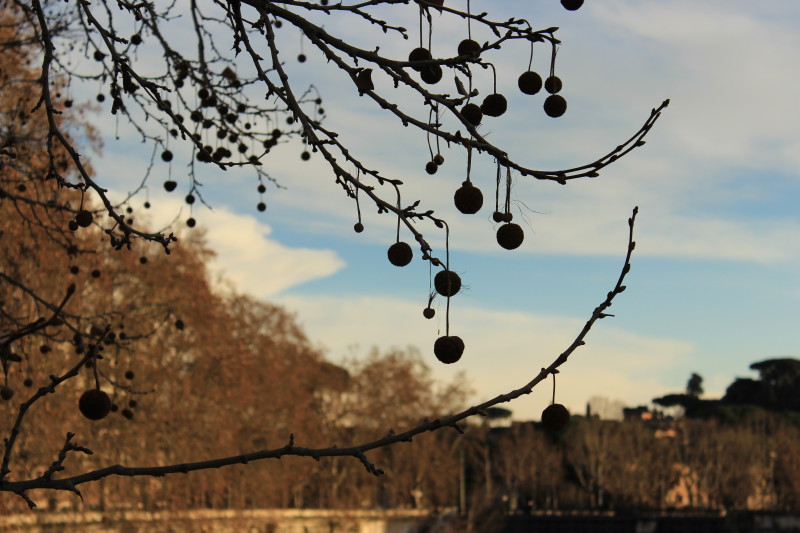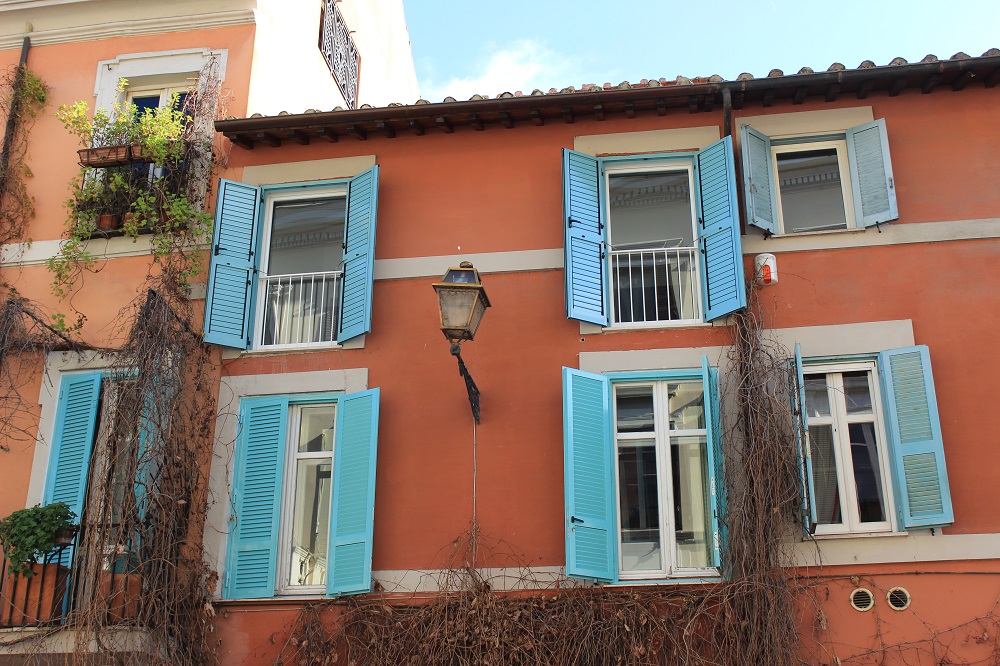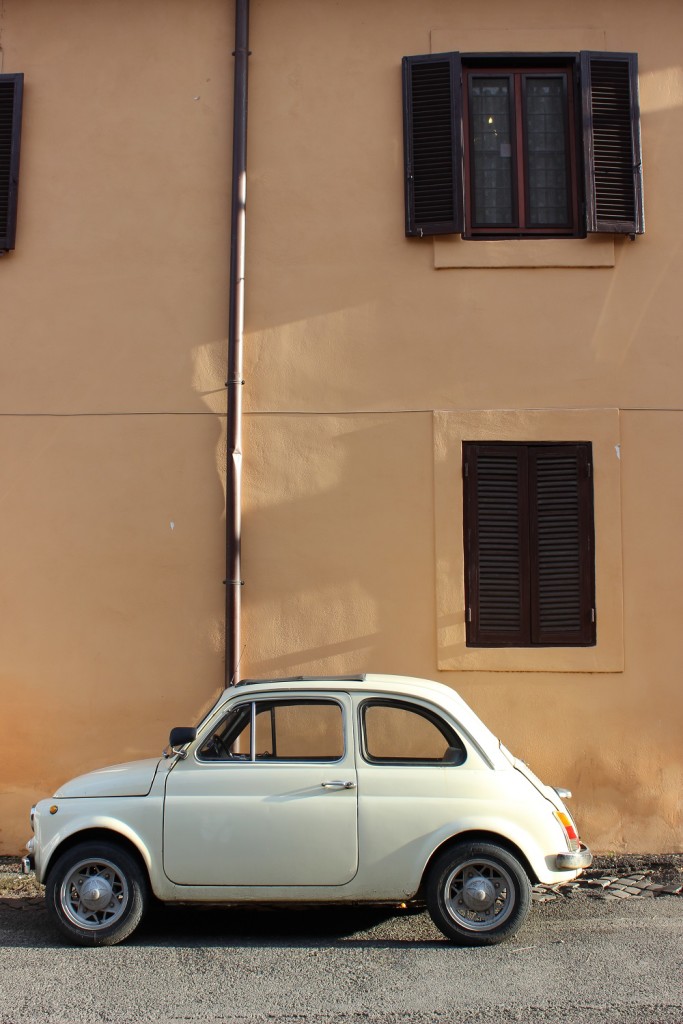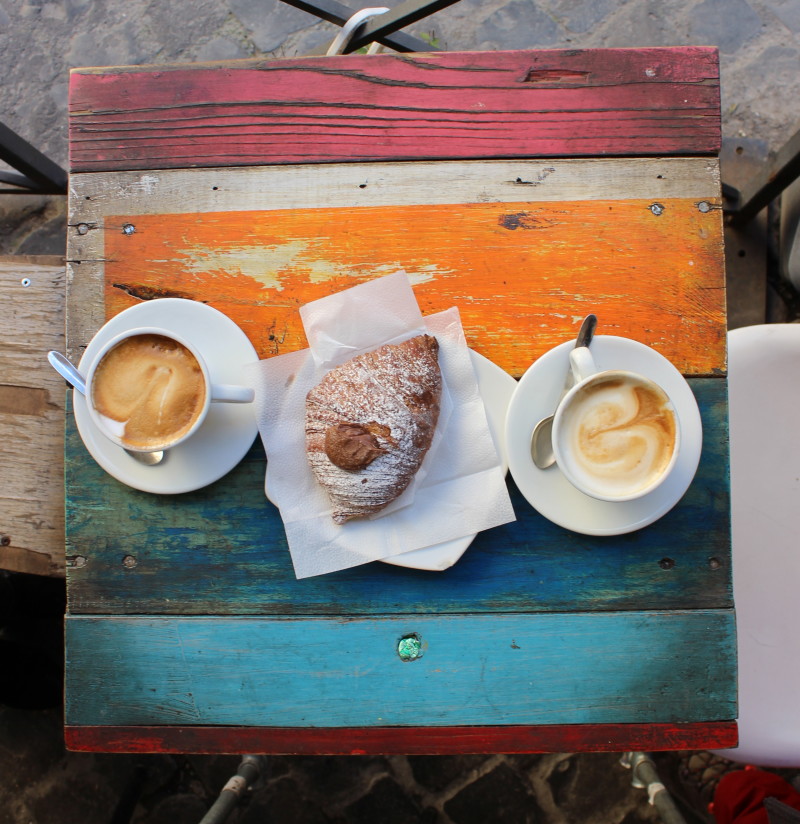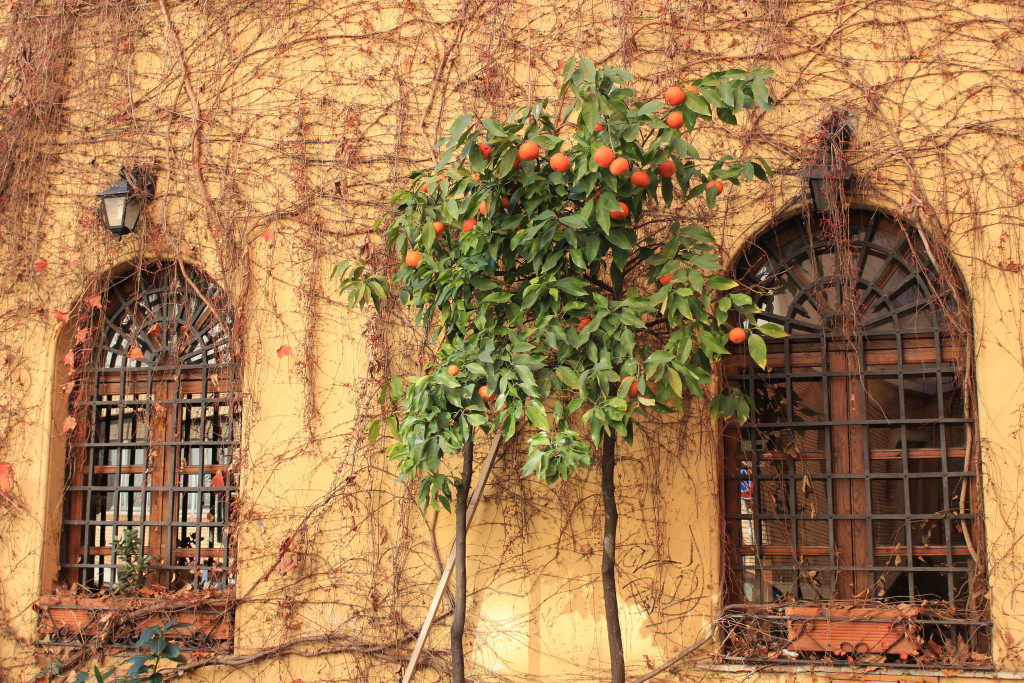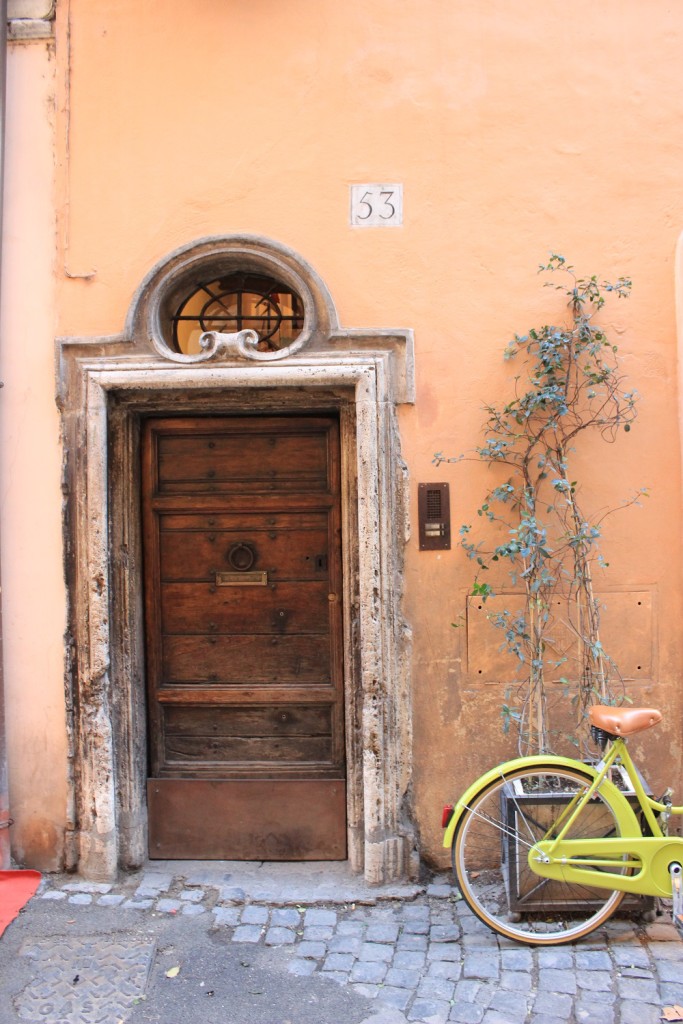 After we got hungry enough, we stopped at a pizzeria called Dar Poeta where the pizza is fabulous and they serve it fast. We highly recommend it!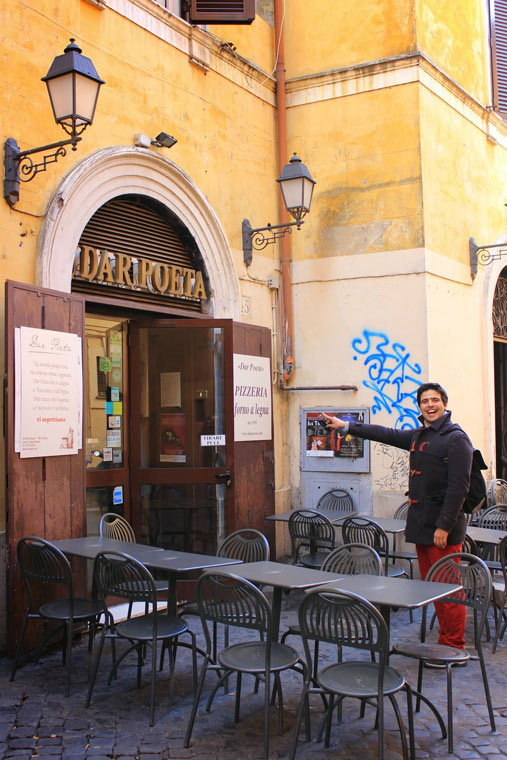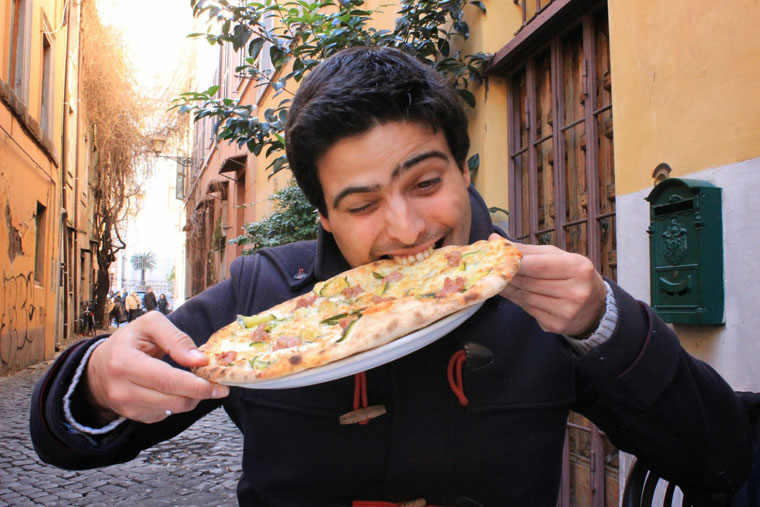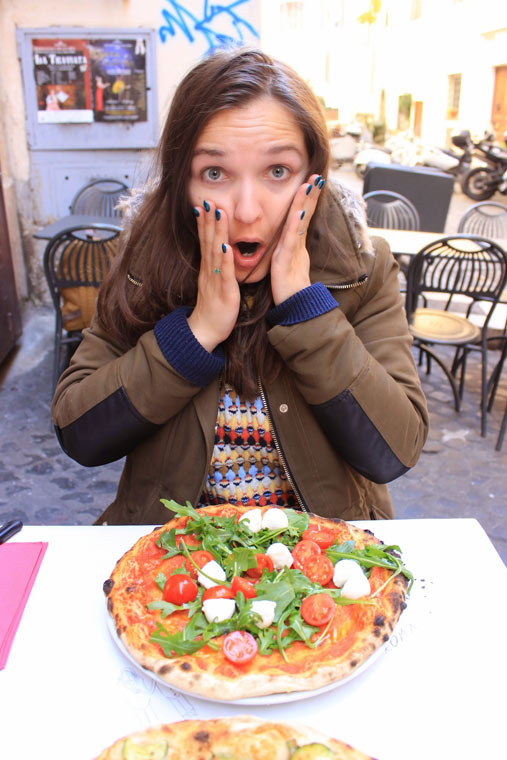 The other half of the day we went in search for the Secret Key Hole of Rome and discover what's not that much of a secret any more, and the proof was the long queue of people waiting for 10 seconds of staring through a key whole. You'll convince yourself why. And, we'll let you discover it by yourself.
Nearby you will find the Garden of Orange Trees, where you can see the city in the glow of the sunset. It is ROMAntic.
We ended the day in the Jewish Ghetto, where aside from learning about the history of Jews in Rome, we also stumbled upon narrow cobblestone streets, artsy corners and restaurants.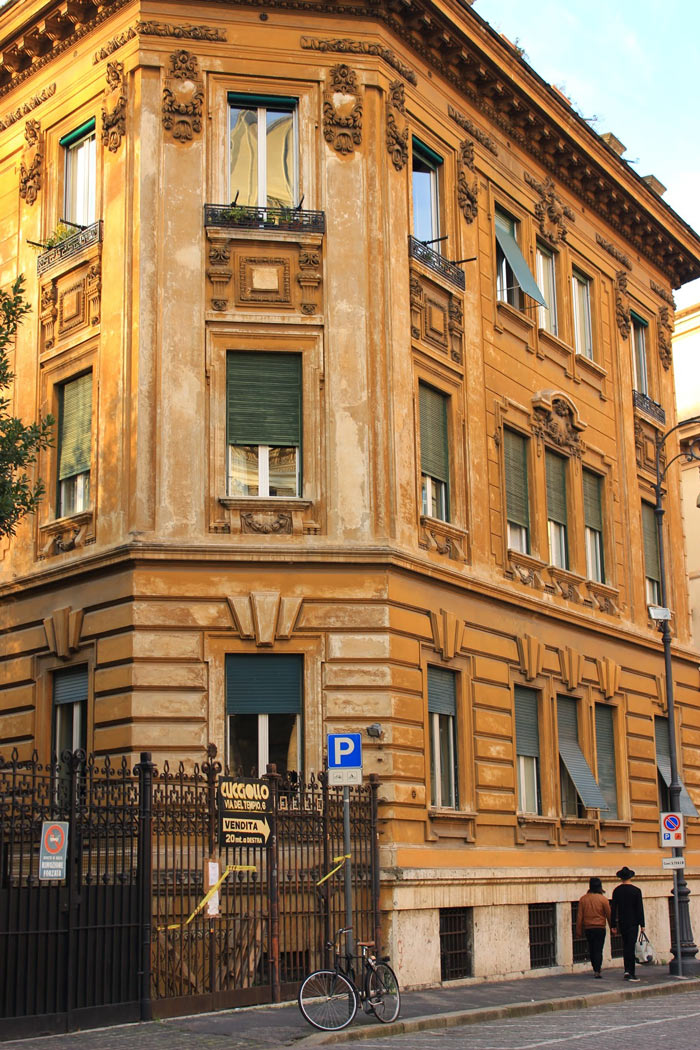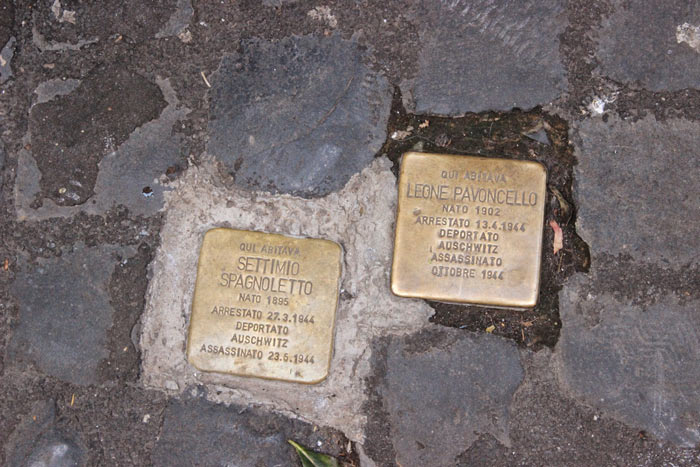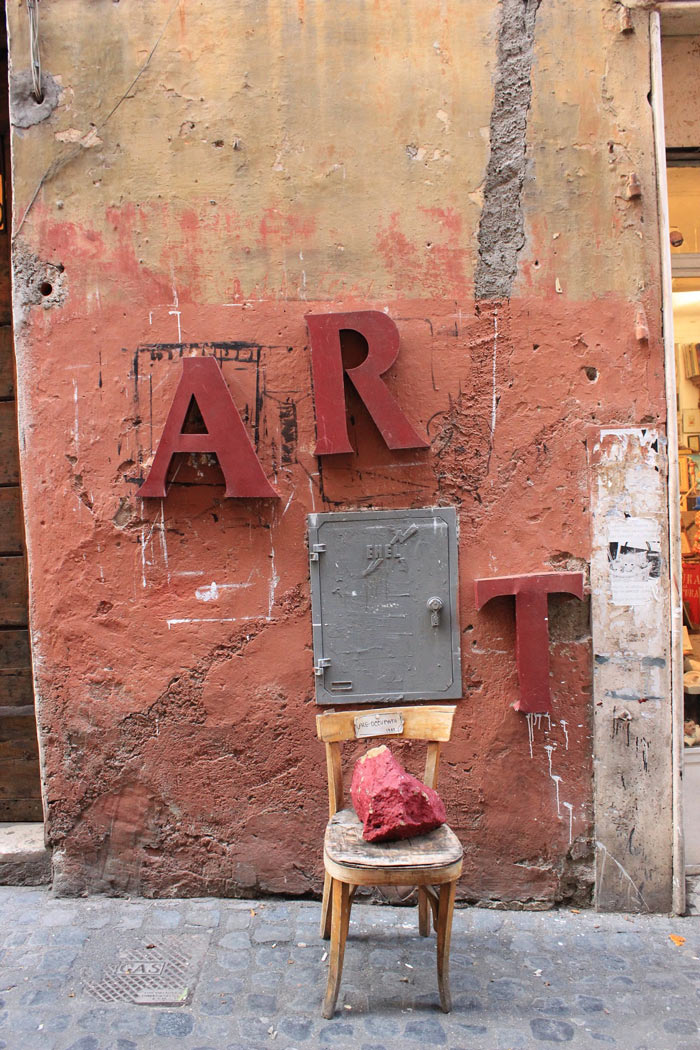 Funny happening:
When we arrived at the hotel, Edgar got sick with fever, so I went out to grab some soup. I went to a Pizzeria (Pizzeria del Secolo) right next to the hotel, where they only served pasta and pizza. I asked the lady where I can find soup for my feverish boyfriend. She was unsure so she asked the chef, to whom she also mentioned Edgar's situation. I could see him working in the kitchen. The lady turned with a smile upon her face saying the chef would cook the soup. He then gave me a glance and told me in Italian he'd make a soup of patate, zucchini e tortellini, but I need to wait for 20 minutes. PERFETTO!
I need to tell you that that soup cured Edgar. He was much better the next morning. Before leaving we stopped by just to say Grazie mille! He acted like a true amico.
Ci vediamo Italia! A dopo! Ciao!